Enhancing Engagement with Equity Commissioning (Ecx)
Our designers and engagement specialists have always worked closely with school district leaders to co-create equitable engagement strategies. This approach differentiates BRIC from other firms. Over the last three years, we've worked on major projects in school districts with diverse communities, and from these experiences, we've developed an enhanced approach called Equity Commissioning (Ecx). This process ensures that equity is integrated into every stage of a building's lifecycle.

Our approach also involves an Equity Commissioning Team that consists of students, teachers, administrators, parents, community partners, architects, and contractors. Like commissioning agents, the Equity Commissioning Team is involved throughout the project process.
BRIC's Equity Commissioning approach goes beyond traditional equitable engagement strategies. It is a framework designed to hold a project accountable to equity, inclusivity, and design justice. Through this process, we identify and prioritize equity-based project goals and design elements by listening to and learning from impacted communities, then make sure these community-driven priorities are achieved in the project and support a district's social equity goals. Equity Commissioning helps us better serve communities that have for too long been closest to the problems but furthest from the solutions. With Equity Commissioning, we're closing that gap by holding teams accountable to creating a more just and equitable future.
Centering Equity to Design for Change
Equity commissioning is not a single stage in a capital project or long-range plan; it is woven into the project or planning process from the earliest stages through design and construction and into post-occupancy building operation and use.
Our Equity Commissioning process has five stages, and we work collaboratively with our partners to adapt all steps to each client's unique needs. We have developed templates and tools to help us evaluate our progress at key project milestones. We also establish clear metrics for equity so we can verify that project equity requirements are implemented and achieved, which supports accountability throughout the project process.

Stage 1: Inclusive Audiences
Equity Commissioning goes beyond traditional engagement strategies. We prioritize diversity and representation among the voices involved in the process. This hasn't always been a priority, and we believe it should be. Many districts are joining us in making it a standard.
To identify audiences, we ask: Who needs to be centered? Who will be impacted by the change this project brings? Who is furthest away from educational and society equity and power? These questions help us develop outreach strategies to reach these groups. One of the best ways to reach communities that are sometimes disconnected from their schools is to work with individuals or groups that have existing trusted relationships within these communities. This kind of collaboration helps build trust and remove barriers to participation.
Our current work in the Renton School District highlights this approach. Brianne Tomlin, Facilities Project Manager with Renton School District, shares her perspective below.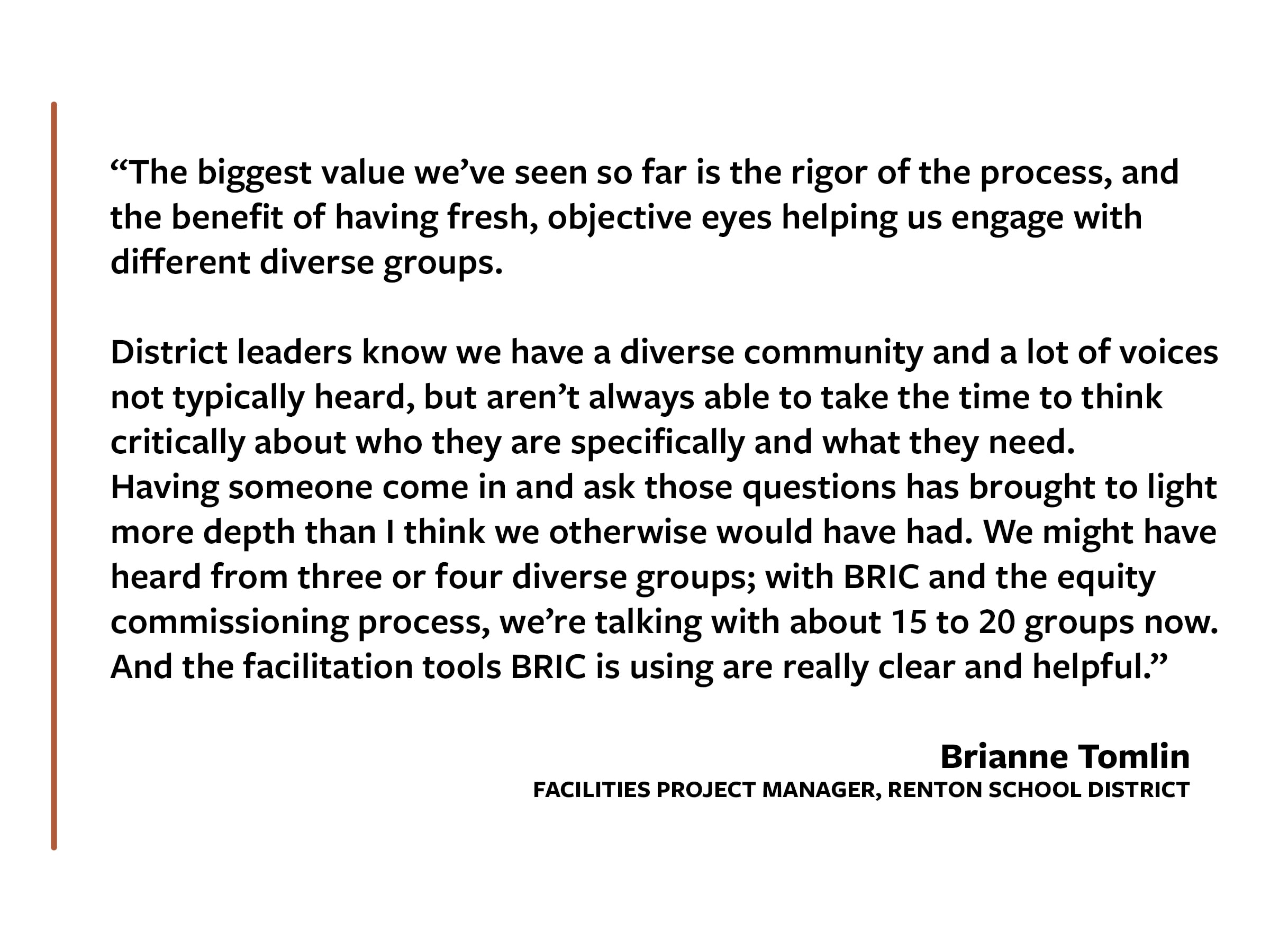 Stage 2: Inquiry
We conduct listening and learning sessions with various groups within our identified audiences. We consider different groupings of people to make sure our sessions create space for honesty and storytelling. We often engage students, teachers and families in affinity groups (around shared identities), focus groups (around school programs and departments), and open sessions (to build awareness and interest in the broader school community).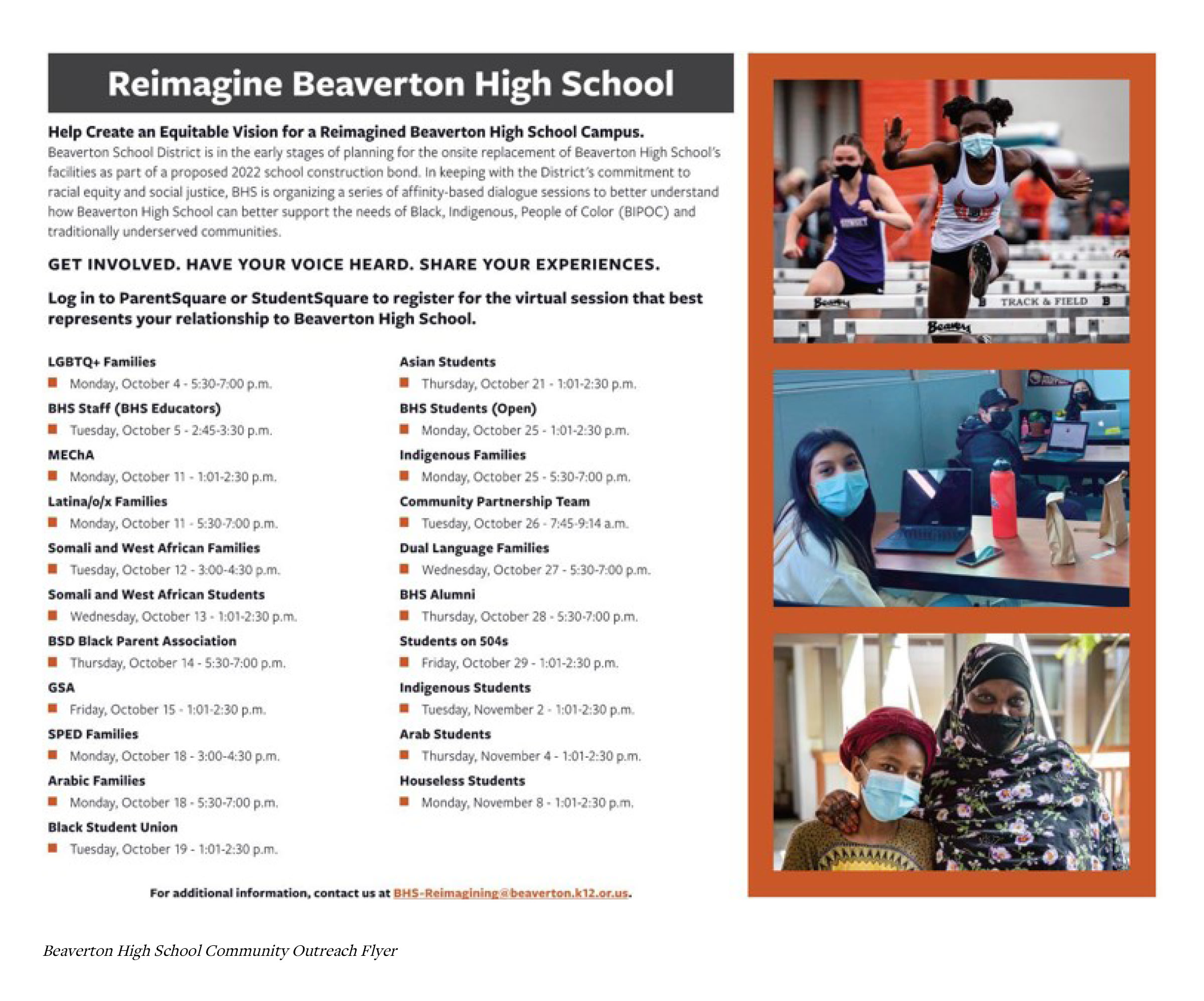 A key difference in our Ecx inquiry approach compared with traditional public engagement is first asking questions that invite the community to help identify the micro-problems experienced by people impacted by educational inequity, and how we might solve them through a school's design. Often, architects are handed a project brief that outlines the design problem to be solved, but this is not typically co-created with impacted communities at the center.
This process is influenced by our partnership with Dr. Amara Pérez and her pioneering work that connects a Critical Race lens to spatial design. We strive to create spaces where people feel comfortable sharing their stories.
We listen intently to the stories entrusted to us by the community during listening and learning sessions, and document what we hear with great integrity. We host conversations, gather stories, build trust, and better understand relationships. This weaves a tapestry of the community's perspectives and priorities related to how they interact with their schools.
Stage 3: Analysis and "North Stars"
We analyze the stories, conversations, ideas and reflections we gather through listening and learning, looking for themes and trends that exemplify what we heard. From this analysis, we form guiding principles or 'north stars,' which become our metrics for accountability—they give us something to measure as design progresses.
Our analysis includes key questions: What did we hear and from whom? What does this mean? These principles shape the design of equitable learning environments that meet the specific needs of each district partner. We reference back to these touchstones as design develops and to make sure we're staying true to what we heard from the community.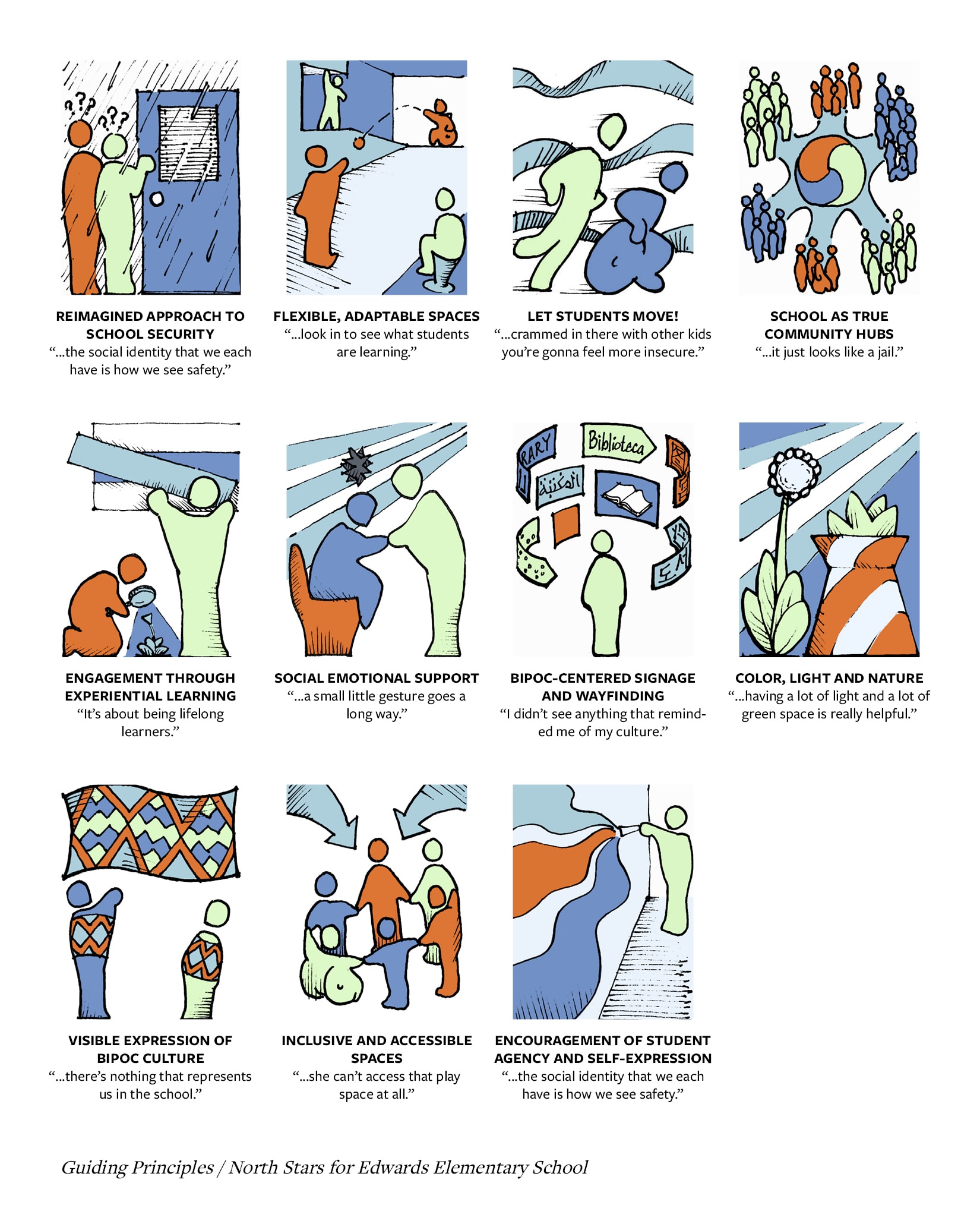 Stage 4: Translating Principles to Design
We then translate these guiding principles/north stars into specific design implications, which become the "conditions of satisfaction" for the learning environments—the things that must be true for the project to be considered successful. We ask: How do the north stars manifest in design? What would these actually look like? Often, architects jump from the development of guiding principles directly into design, without taking the time to think about what they mean for design. By intentionally taking the time to think this through, we set up a rigorous system of accountability and ensure that the design truly reflects the principles and goals we set out to achieve.
Stage 5: Accountability
This is not really the final stage of the Equity Commissioning process, but something that happens continuously throughout. This sustained emphasis on accountability is one of the primary ways in which Equity Commissioning is a different approach. We ask: How should we hold the design accountable to the community's goals and aspirations? How will you test this in the future to make sure it follows the north stars? What opportunities exist for community input to shape design? At every design phase, we challenge internal biases and involve the community in developing design solutions.
Ensuring accountability is a key role of the Equity Commissioning Team. The Equity Commissioning Team creates plans, metrics, templates, and trackers to keep the project aligned with the community's goals. They review planning documents and designs at key milestones to keep equity front of mind at all times during the project. These pauses also create more space to incorporate feedback, and to ensure design is staying true to the original goals and intentions. This is especially important in instances where budgets and scopes might not align and during hard conversations where tradeoffs must be made.
Being the Change
Planning and designing learning environments is inherently tied to the numerous inequities students, educators, and community members experience in today's schools. Because long-range planning and capital projects are significant endeavors for any school district, it's important to make the most of the opportunity. We believe that planning and building schools that promote a sense of belonging, well-being, and representation for all building occupants and visitors is part of getting it right.
In order to embed equity in engagement and design processes, we have to unlearn inequitable practices that have contributed to systemic oppression. To do this, we invest time in learning new facilitation tools, empathizing with the lived experiences of those around us, and building relationships based on trust that set the pace for how we progress through this important work.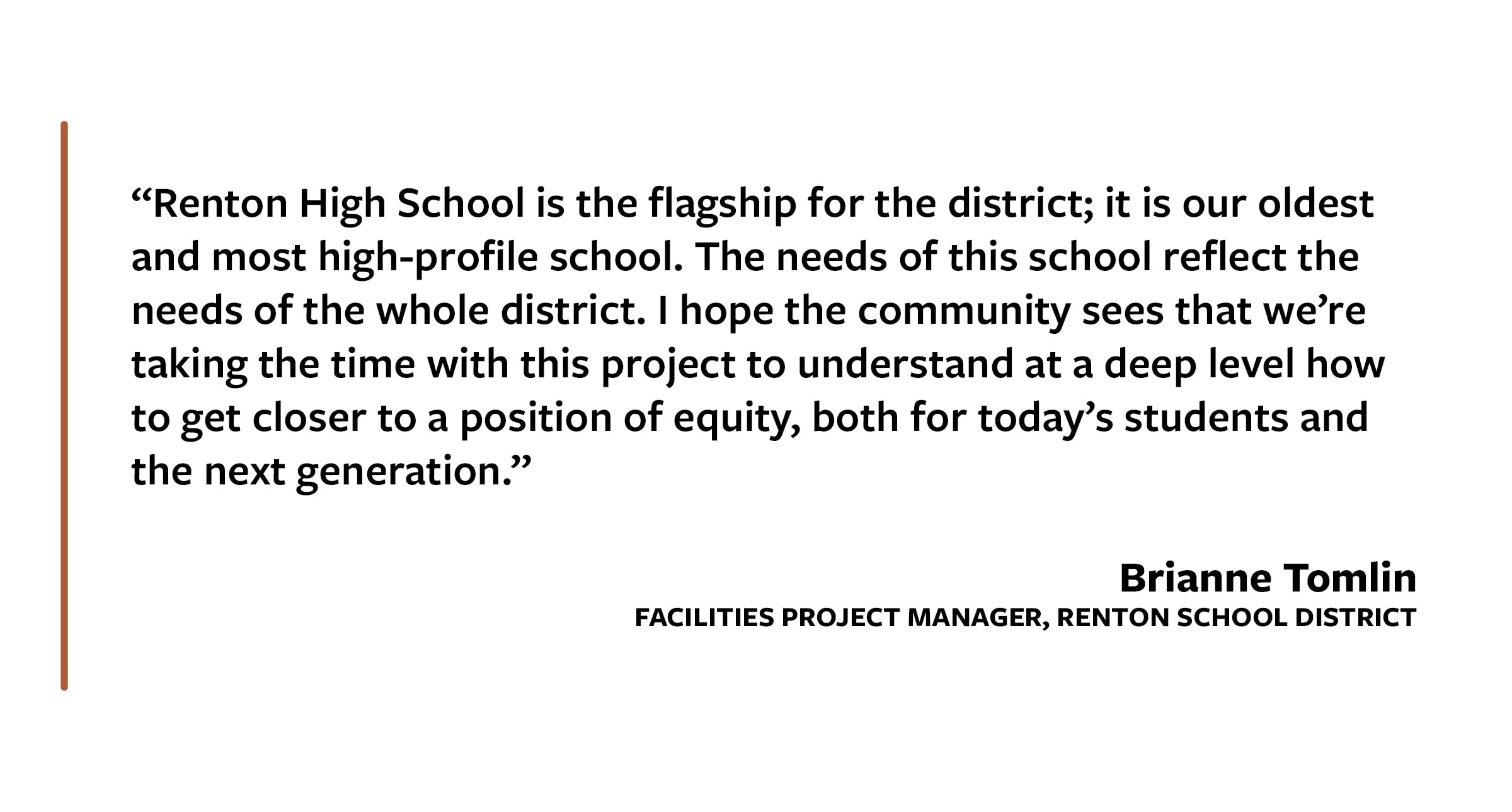 With reimagined approaches such as Equity Commissioning that challenge traditional processes, we hope that people see and feel these changes in their school communities, in classrooms, in community spaces, and even their homes. We're making progress in the right direction, and our clients and partners and joining with us. Together, we believe we can create a more just, sustainable, and humane future for everyone.