First, the burning question on everyone's mind…. What's your favorite ice cream flavor?
Bethany: I like to mix a fruity sorbet and a creaming ice cream to have the tart and sweet. I've been liking mango with chocolate chip recently.
Lucero: Strawberry!
Ana: I've been on a chocolate kick lately, and trying out non-dairy ice creams.
What kinds of things have you had opportunities to work on? What's the coolest thing you've learned from being involved in that work?
Lucero: I've been working on daylighting and shading screen drawings with Travis on the Newberg High School Modernization project. I knew daylighting was important, but not how much it impacted so many aspects of a space. I've also started working with Ed on the learning Revit software through a design project of an artist's house and studio.
Bethany: I've had a chance to work on both "zoomed in" and "zoomed out" aspects of work. I've been doing interiors work with the Salem-Keizer projects, looking at detailing and finishes—this is more "zoomed in". I've also been working on the Gardner Middle School User Manual, which is a more "zoomed out" aspect of architecture, providing information about the school's design features for end-users to make sure they understand how everything works and what the benefits are. I've also had the opportunity to be integrally involved in the punchlist process for Gardner—I felt really official and important! Punchlisting can be difficult, but I really found it interesting.
Ana: As I just started this month, I've been really focused on wayfinding and placemaking efforts as part of the Newberg Public Schools projects.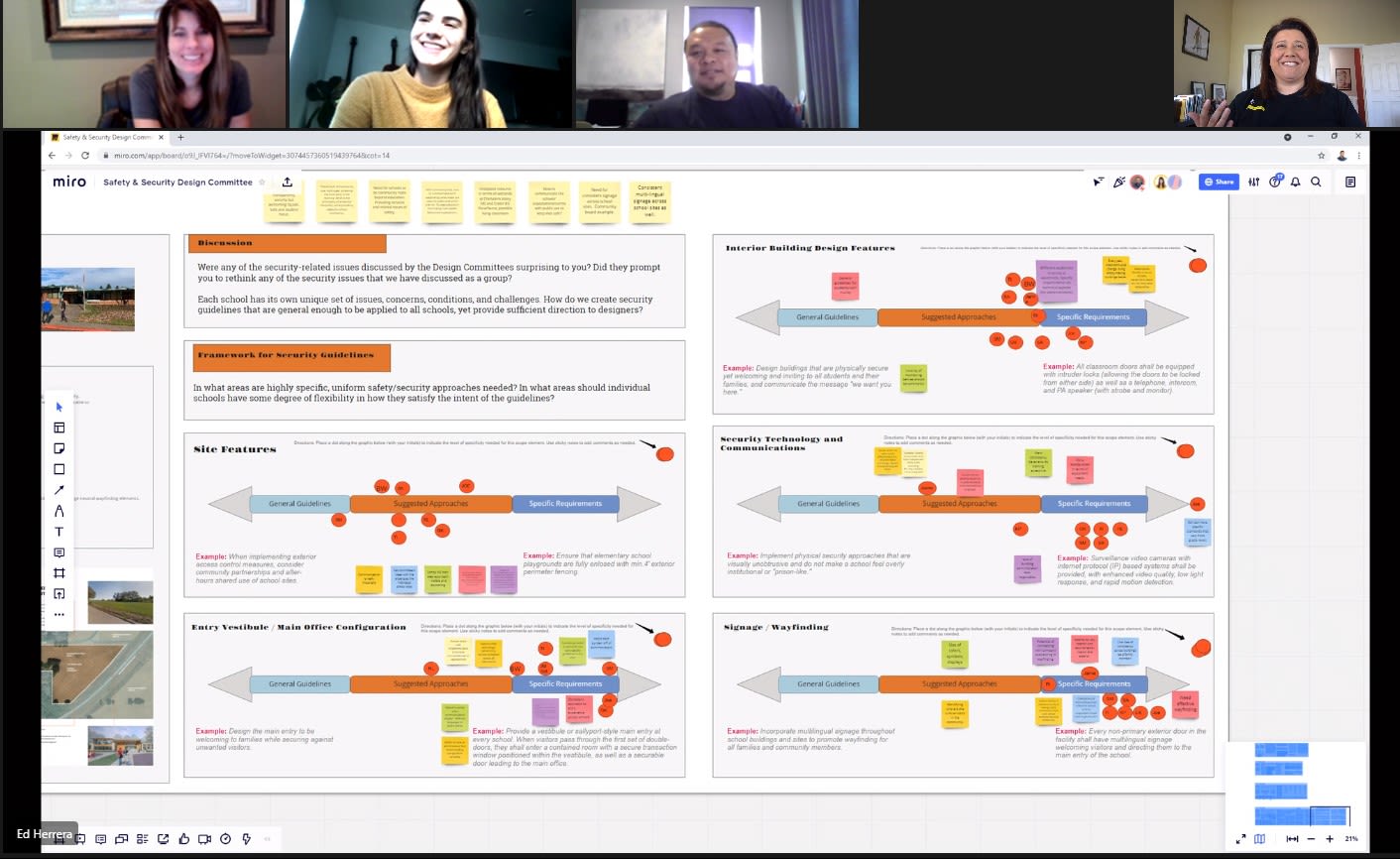 Ana collaborating on Miro with Elisa, Ed, and Karina via Zoom.
What's been the most challenging aspect of what you've been working on?
Ana: I would say adjusting to the complete virtual experience in a new firm. It's kind of like when you get into a cold pool, it takes time to acclimate to the temperature and depth before you fell comfortable enough to swim. I feel like I'm stilling getting familiar to all the different aspects of this work. Do you feel like the water's getting warmer? Yes, as I'm starting to see behind the scenes.
The virtual environment has also been challenging; I've never had a job where I haven't gotten to meet people for real, face-to-face. Complete remote work from the start is different and takes time to get the feel for it.
Lucero: I'm getting better at putting myself out there, being comfortable reaching out and not feeling like I'm bothering someone if I have a question, and asking questions without overthinking them. I'm also getting more comfortable with deadlines and how long to spend working on a project, and knowing when we have to work fast to get something done same day.
Bethany: The internship has been like a "choose your own adventure" but I like deadlines, scheduling, and structure. I find it empowering and freeing. It's up to me to add that in where there aren't any real deadlines communicated. It's been a good challenge to thinking about it and create my own schedules.
What the most surprising thing you've learned/ experienced/ done?
Ana: After my first few weeks, I feel like I'm in a good comfort zone; I haven't been shocked by anything in the actual architecture, but sometimes the means and methods of getting work done in the virtual world. It's just the times!
Bethany: I go back to thinking about zooming in and zooming out. I was more familiar with the zoomed in kind of work, the details, the finishes, the order we go in to get work done. Working on the Gardiner Middle School User Manual, I thought, "this doesn't feel like architecture, this is something else." I talked with the project team about it and learned just how important an aspect of the final delivery this piece is to the project. It's been interesting to learn how large the umbrella of the architecture discipline is; it's bigger than I thought, and continuing to grow.
David: Community engagement and some of the bigger picture aspects of this work are part of the K-12 project typology in which BRIC works; in commercial real estate projects, the role of the architect is more clearly defined, but in K-12, it's a very wide spectrum. So much of what we do is about communication—not only design ideas or the details of what gets built, and not only with the contractor or owner decision-makers, but a broader community group. Different tools like a user manual become a key communication tool, and we love the different perspectives you're bringing to help us develop different ways and new tools for communication. Thank you!
Lucero: I'm learning more about the importance of budgeting and estimating in the architecture world and how much it impacts progress and the work you can do. There was one project where we didn't know the budget yet and were having a cost review meeting, and it was stressful—can we replace this, can we do that instead, what did we build into the Newberg bond? Budget affects everything!
How does your experience align with your interests? How will what you're learning now help you accomplish what you want to do going forward?
Bethany: I'm really interested in community projects, speaking to end users and getting their input for designs. Even though it's virtual and school is out, we've been engaging with different people throughout the design process on the Oregon City Middle School projects, especially with a student design committee actually being part of the design. I've been hearing about the Oregon City projects, how important this kind of input has been over the one or two years of the design process. I was interested in BRIC because you do schools, which is a kind of community project. It's been a great way to see how to engage users at the beginning.
Ed: When I was younger an architect once told me that "we don't make the decisions—the end user does. The more you can inform them with making those decisions, the more successful the project."
Ana: I agree with Bethany about the community engagement. In my work with NOMA [the National Organization of Minority Architects Portland Chapter], I'm passionate about exposing architecture to other designers and artists and showing how it affects life behind the scenes. It's important to involve community members, especially teachers and parents. I'm curious to see if this kind of community engagement becomes the standard for all design.
Lucero: I'm really interested in sustainability, so researching daylighting strategies and learning about different sustainable materials and how buildings become sustainable has been a great starting point. Rebecca had me do research about 10 different sustainable buildings to learn more, and noticed that most of the buildings are outside the United States. There's so much to know!
Lucero and Bethany visit the PAE Living Building in downtown Portland.
BRIC was intentional about wanting the internship program to be and feel "student centered." Does the program structure and the BRIC team's engagement with you feel centered on you? Do you feel well supported? Empowered? Comfortable engaging with BRIC staff? Why or why not?
Ana: I often deal with "imposter syndrome" and it affects my ability to communicate. Shame is part of the culture we've grown up in, which can counteract the vulnerable moments necessary in growth. I've been trying to be mindful about this and make efforts to reach out. And when I haven't reached out, I have felt supported.
Bethany: I am comfortable asking questions, but I also don't want to overwhelm the other person with too many, and I want to be helpful and take things on, but sometimes I feel like I hit a limit of the questions I can ask, and that I should figure it out for myself. It's been great and a cool surprise to have so much contact with BRIC team members; I didn't think we'd be able to meet so many times Dave!
David: Our threshold for questions is high because we know where you're coming from. We're all into answering questions to help you get the information and context you need. Early in my career, I got some great advice to try and think of the potential answers to the questions I had, which helped me group my questions to ask at once, rather than piece meal.
We also want to make sure you're hearing the important message that each of you has something powerful to offer—you have a lot to contribute! It's easy to focus too much on what you can learn, what you're exposed to. We took into account the great things each of you have to offer, your interests, and who you are, when we worked on matching each of you with learning opportunities. We hope we can help you each see the great things you have to offer this profession and the community. What you don't know feels overwhelming at the beginning of your career. Looking back, I think it's good to hear that you have something very valuable to offer.
What are you looking forward to over the next several weeks in your time as a BRIC intern?
Lucero: I'm really excited to see how the presentation for Newberg High School develops. I've been helping with the Miro board and the PowerPoint. I'm looking forward to seeing how it comes together.
Ana: I've made a personal challenge with myself to introduce myself to people over MS Teams since I can't just bump into someone in the office. I want to meet someone new every week, say hi and learn about the cool things they are doing. So far, I've met two more people!
Bethany: I'm excited to see this user manual finished and in the hands of users, which should happen before I go back to school. I've never been part of a project that completed where I've been there, known the history of the project. That will be really cool. And once the manual wraps up, I'm looking forward to getting into more of the "zoomed in" work on design development opportunities.
What advice would you give to a future intern?
Bethany: Come into the summer with an open mind about what the architecture profession is. I'm learning things that I didn't realize were encompassed in architecture and that I haven't learned in school. Be comfortable asking questions. Take on as many opportunities as you can get! Being part of a photoshoot, touring a building, it's a cool way to get little snippets of something different that we don't experience in school.
Ana: Focus your mindset before going into the internship. Do the mind work so you can go in feeling comfortable, able to put yourself out there. Especially as a woman—women are conditioned to be people pleasers, so this can impact our ability to voice what we need and maintain healthy work boundaries. I've been doing some deconditioning work behind the scenes to help me feel comfortable. Sometimes you have to unlearn things in order to learn something new.
Lucero: It's okay not to know everything. It's better to ask questions than to struggle in silence. It can take learning to be open and putting yourself in a vulnerable place.
What advice would you give us for next year's internship program?
Bethany: I like the "choose your own adventure" style. In the beginning, also integrate more tasks than only shadowing opportunities. Having both the option to hear the background of a project as well as knowing "here's what needs to get done this week and having a task list, I find this helps keep me engaged and learn the best.
Lucero: Keep interns in the loop on things we learned in shadowing, even if we're engaged in other assignments afterwards.
Ana: Be encouraging when you see someone overthinking, let them know they're doing great. Transparent communication about the nature of an assignment is helpful. If I'm doing something unprecedented, let me know that, that it's up to me to make choices, rather than look for an example to follow.
We also thought a lot about bringing an intern group together who could "groove" together and learn from each other. Do you feel like you've been able to do that?
Bethany: We all had our own projects that suited out interests. Maybe a weekly facilitated check-in meeting with each other, or with the Intern Advisory Group as well. Like a show and tell meeting where we can share about what we're working on and get other perspectives. I've only done one other internship where there were other interns, so having a group has been great. I appreciate that there are other interns I can connect with.
Lucero: Maybe having a get together every Monday with check-in questions like "what was the highlight of last week for you?" Building trust with each other is important, and it gives you another group of people to ask if you don't want to ask your mentor yet. Maybe having past interns as mentors for new interns would be cool.
Ana: A weekly check-in and opportunity to ask questions would be great!
Onward and Upward
Four weeks left! There's so much more we want our interns to get out of their experience with BRIC. We're taking Bethany, Lucero, and Ana's fantastic feedback into account and doubling down on making sure the next few weeks are a rich, rewarding, and impactful experience for them!