Skilled doctors help patients identify their symptoms, even when patients can't exactly describe the true issue. A savvy salesperson or customer service representative can help you find the perfect product or experience— one that you may not have even realized you needed or wanted, but results into the perfect solution to your problem. As architects and designers, our role is very similar relative to the built environment—we work with clients and users to peel back the layers of the proverbial onion and identify their needs or delve deeper into the problems they're trying to solve. Doing so allows us to develop solutions that go beyond the initially perceived need. Whether a project scope is already delineated in a request for qualifications/proposals or is merely the inkling of an idea, we use our past experiences and broad perspectives to help clients realize and maximize possibilities for their projects.
Recently, we worked with Portland Community College at their Rock Creek campus to develop a new parking lot. The original scope called for renovating an existing dirt lot within the campus core adjacent to the library into a paved lot to increase much-needed parking capacity. As we began this project, we found many opportunities to increase the value of this seemingly simple design request.
Digging Deeper
Early in our project approach, we met with PCC's Facilities team to further discuss the project scope and needs. We also met with department heads, faculty, and students to better understand how they used the existing infrastructure of the space (the dirt lot, pedestrian ways, and the surrounding landscapes) as well as how they thought they would use the future parking lot. We researched how students and staff accessed the school's structures, their pedestrian traffic patterns on campus, and the relationship of this new parking lot to campus buildings in order to better understand the pedestrian's approach to adjacent buildings. We also studied the overall campus experience for a variety of users.
By having these early conversations prior to designing a parking lot, we gained a deeper understanding of the impact that providing this campus infrastructure would create. Outside of providing parking space, the project was able to support curriculum and improve campus connectivity, all while creatively including these elements within the original budget.
Creating Connections
On the southwest corner of the existing dirt lot, there are several mature oak trees. In talking with the head of the landscape technology program, we learned these trees play a key role in their curriculum. This prompted our team to protect the trees and integrate them in the design as part of an existing academic curriculum.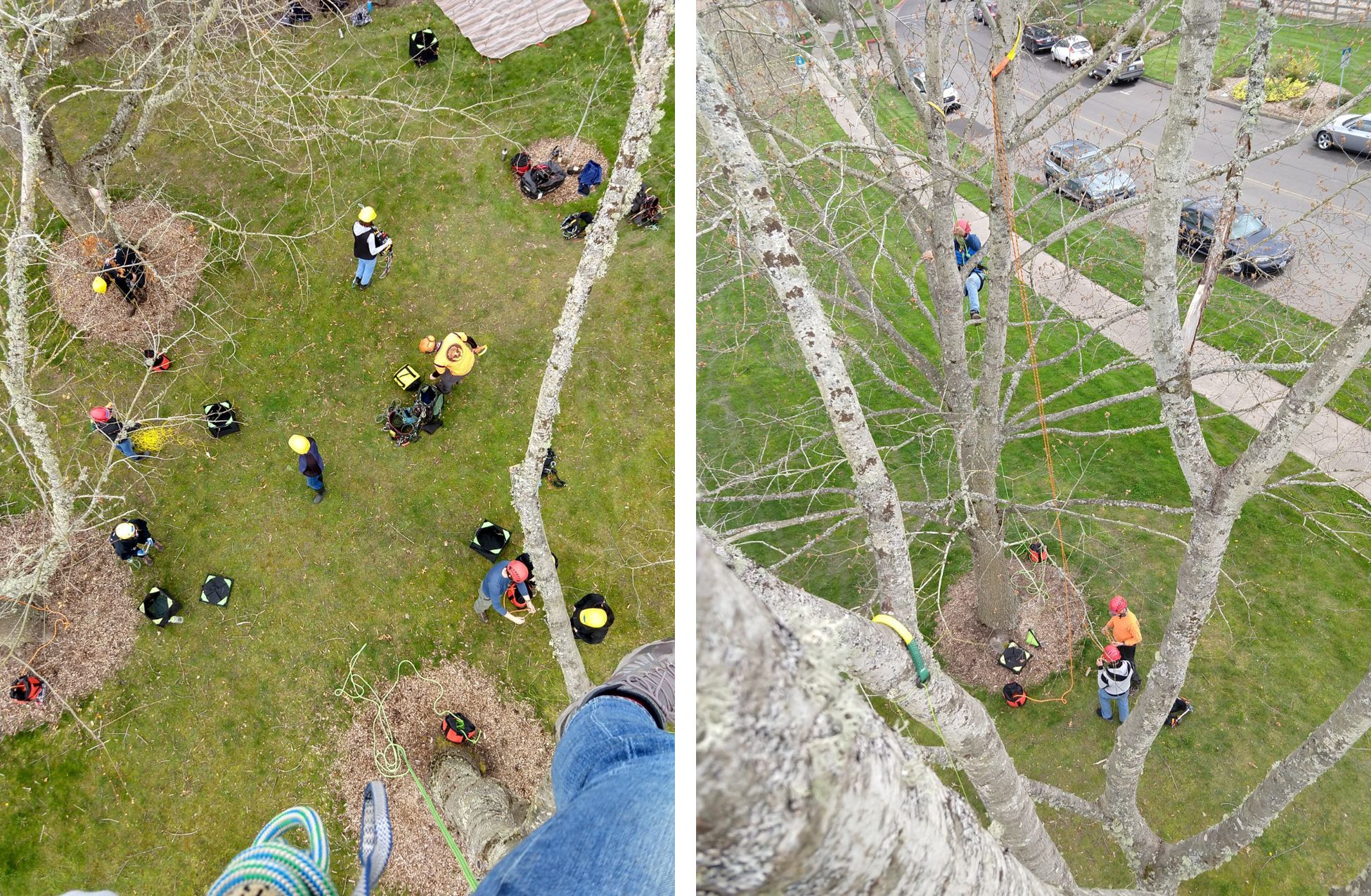 PCC students in the Landscape Technology program use the oak trees on campus for hands-on training.
In reviewing the site layout as well as by meeting with students and faculty to discuss their patterns of accessing campus, parking, and reaching their destination, we confirmed that the project location was quite prominent, especially the existing library and event center. We had the opportunity to further reinforce strong pedestrian connections through campus. This factored into how we planned commuter distribution from cars in the lot to campus. Having worked with PCC on their effort to provide campus-wide equity, we also navigated the project with an intentional lens toward creating spaces that were comfortable and welcoming for all users.
Ultimately, our design provided the much-needed parking lot, organized the hardscape areas to preserve the oak trees for the landscape technology program, and supported additional curriculum for landscape technology by designating areas for future landscaping and planting by students. We connected pedestrian pathways that reinforced the promenade through campus and improved safety and security with an accessible pathway that included benches, inspiring respite areas and a new landscape design. We also integrated and supported sustainability goals with stormwater collection and detention strategies in the lot.
By engaging users and leveraging their input, BRIC designers delved deeper into the possibilities, turning a simple parking lot project into a wealth of opportunities for a better campus experience for all.
Architects and designers love a good problem to solve. With an open mind, diverse perspectives, and creative approaches, we help our clients devise spaces that create community and broaden student experiences, with even more impact than what might immediately meet the eye.