The design of learning environments – as well as the planning processes through which they're developed – is inherently tied to the numerous inequities students, educators, and community members experience in today's schools. As a firm whose work is characterized by collaborative community relationships, we recognize that we have a fundamental obligation to align our approach to engagement with our pursuit of racial equity and social justice. By prioritizing inclusion, representation and intentional equity-based inquiry within the earliest stages of planning, we believe we are taking the necessary steps to ensure that the learning facilities we deliver truly reflect the diverse communities to which they belong.
Our work with Newberg Public Schools exemplifies our commitment to reinventing our community engagement approach. Guided by Liberatory Design principles and informed by critical race-spatial praxis, we have partnered with Newberg to co-create a series of engagement opportunities that ensures everyone in the community can contribute to the reimagination of the school experience in Newberg. Together, we are striving to create spaces at the table for historically marginalized voices, recognizing that those who are closest to the problem are often furthest from the solution. Now, five months into the process, we are excited to share how this equity-driven approach is already starting to impact Newberg – both in relation to facilities design and District culture.
Disrupting the Traditional Engagement Approach
Historically, the traditional approach to community engagement has functioned as an inseparable facet of a design process known for reproducing inequities. While school design typically involves some level of stakeholder involvement, metrics like diversity and representation among contributing voices have not been prioritized as defining standards of meaningful community engagement. Emboldened by Newberg Public Schools' commitment to antiracism, we sought to leverage our partnership to reinvent the engagement process. We intentionally opened the door to the entire Newberg/Dundee community, invited attendees to participate in big-picture discussions around socio-spatial perceptions, and discussed how their social identities affect their experience within a space. Our commitment to thinking differently about who is in the room allows us to model an engagement process that flattens the hierarchy, foregrounds the voices of the traditionally underserved, and highlights stories over feedback – ultimately helping us to do our part to disrupt the systems of oppression that exist within our industry.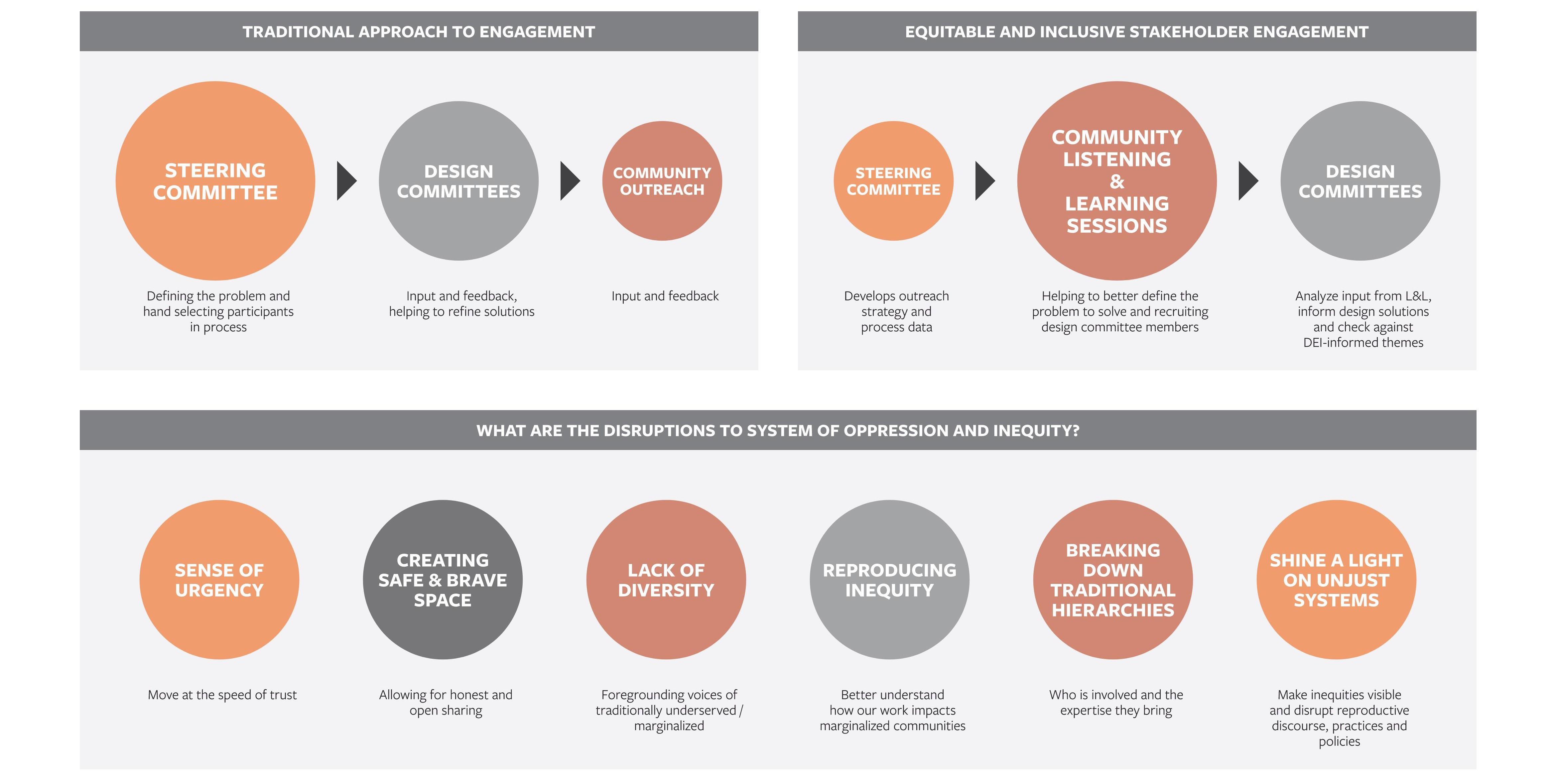 Leading with Listening
The outset of our equitable and inclusive stakeholder engagement process encompassed a series of "listening and learning" sessions aimed at having the community assist us in more narrowly defining the problems we needed to solve through design. Each two-hour dialogue session was developed to empower stakeholders to reimagine the school experience based on a better understanding of their own social identities and how an individual's identity influences how they perceive learning environments. In order to foster safe spaces for participants to share openly and candidly, we adopted an "affinity" model and organized participant groups according to shared identities. Over the course of three weeks, we coordinated and facilitated the following 14 engagement sessions:
· All Students (two sessions)
· BIPOC Students
· All parents, families, and community members (two sessions)
· BIPOC parents, families, and community members
· All Teachers and EAs
· BIPOC Teachers, Staff, and EAs
· Custodians/Secretaries/All Classified Staff
· Administrators/Principals
· Spanish Language Session
· Dundee Community
· All Community Partners
· All Industry Partners
While the identities represented within a session changed from meeting to meeting, the driving focus – the primary objective – remained the same: listen. Through an emphasis on participating in whatever way felt most comfortable in the virtual space (sharing directly aloud, writing in the chat, sending direct messages to one of the facilitators to be shared out anonymously), people bravely shared their stories. As the facilitators, we were honored to witness genuine vulnerability and candor among the stakeholders.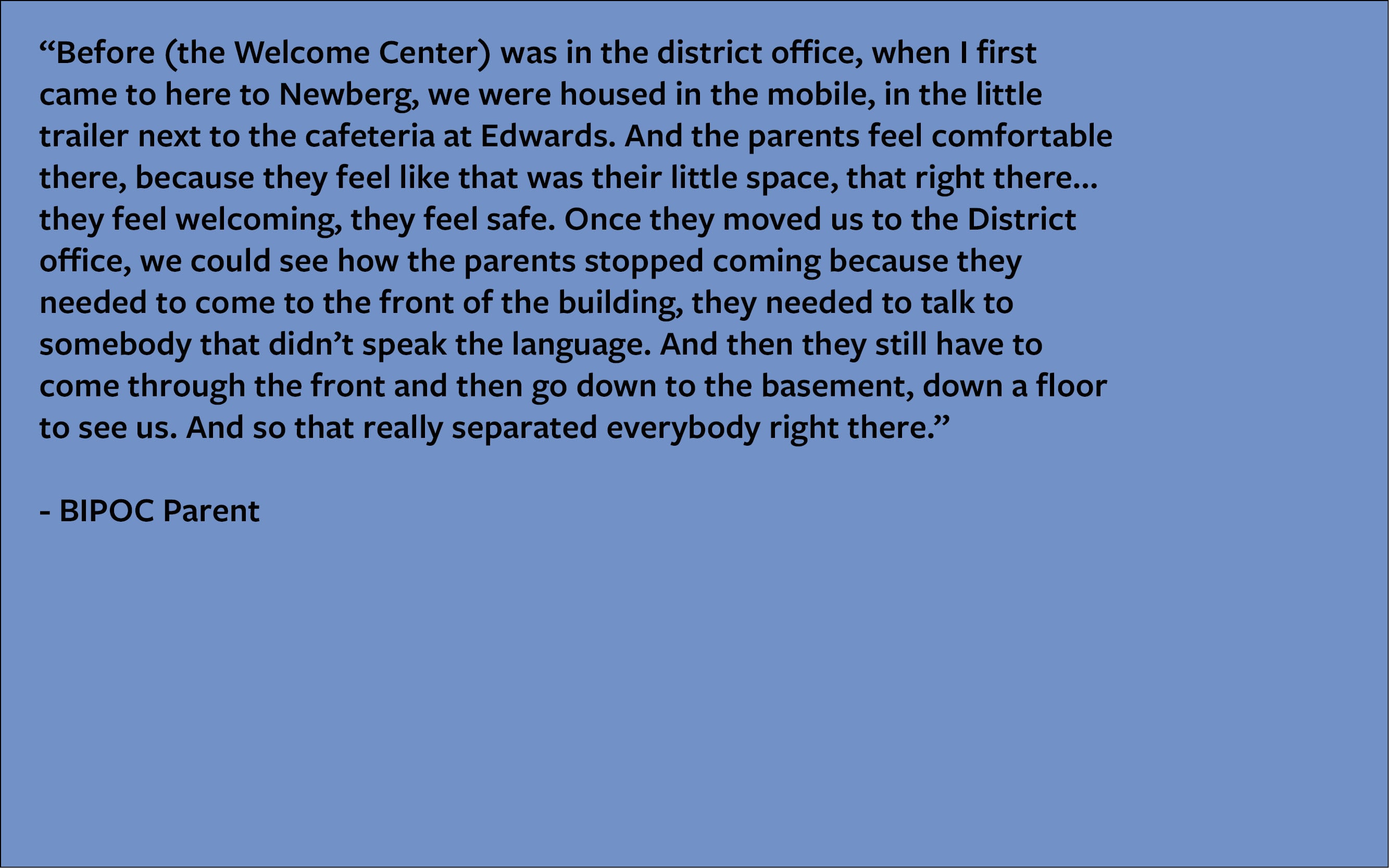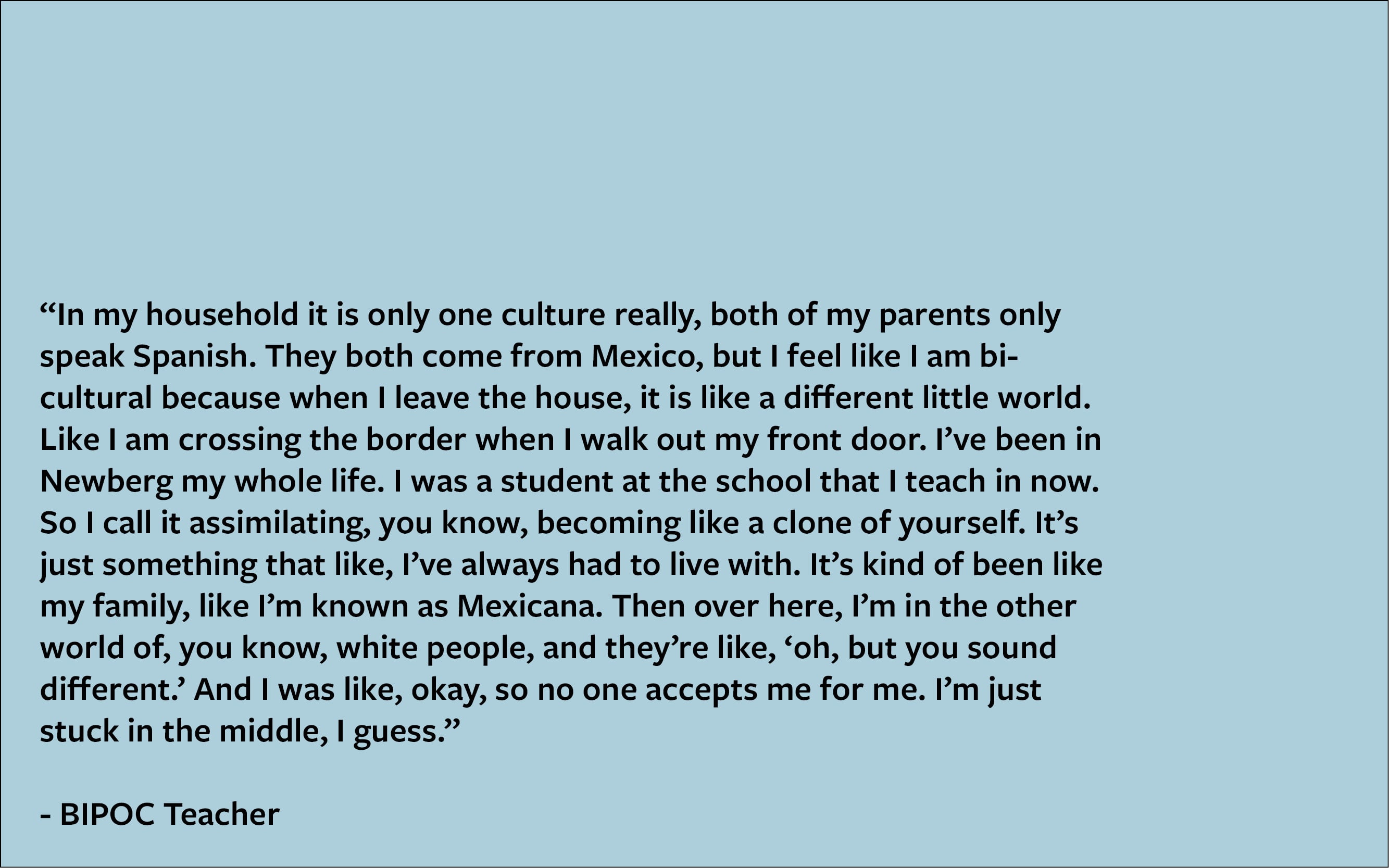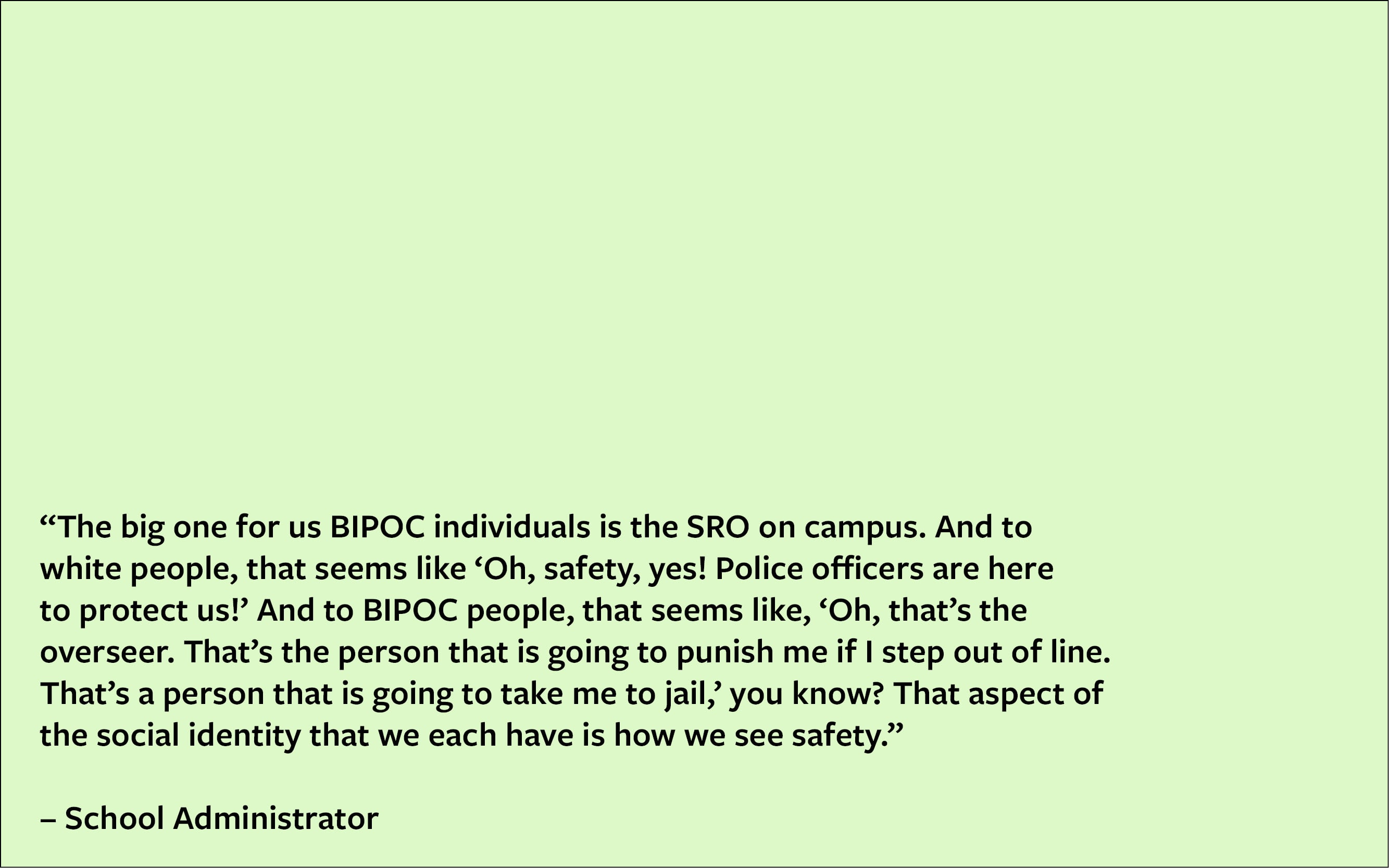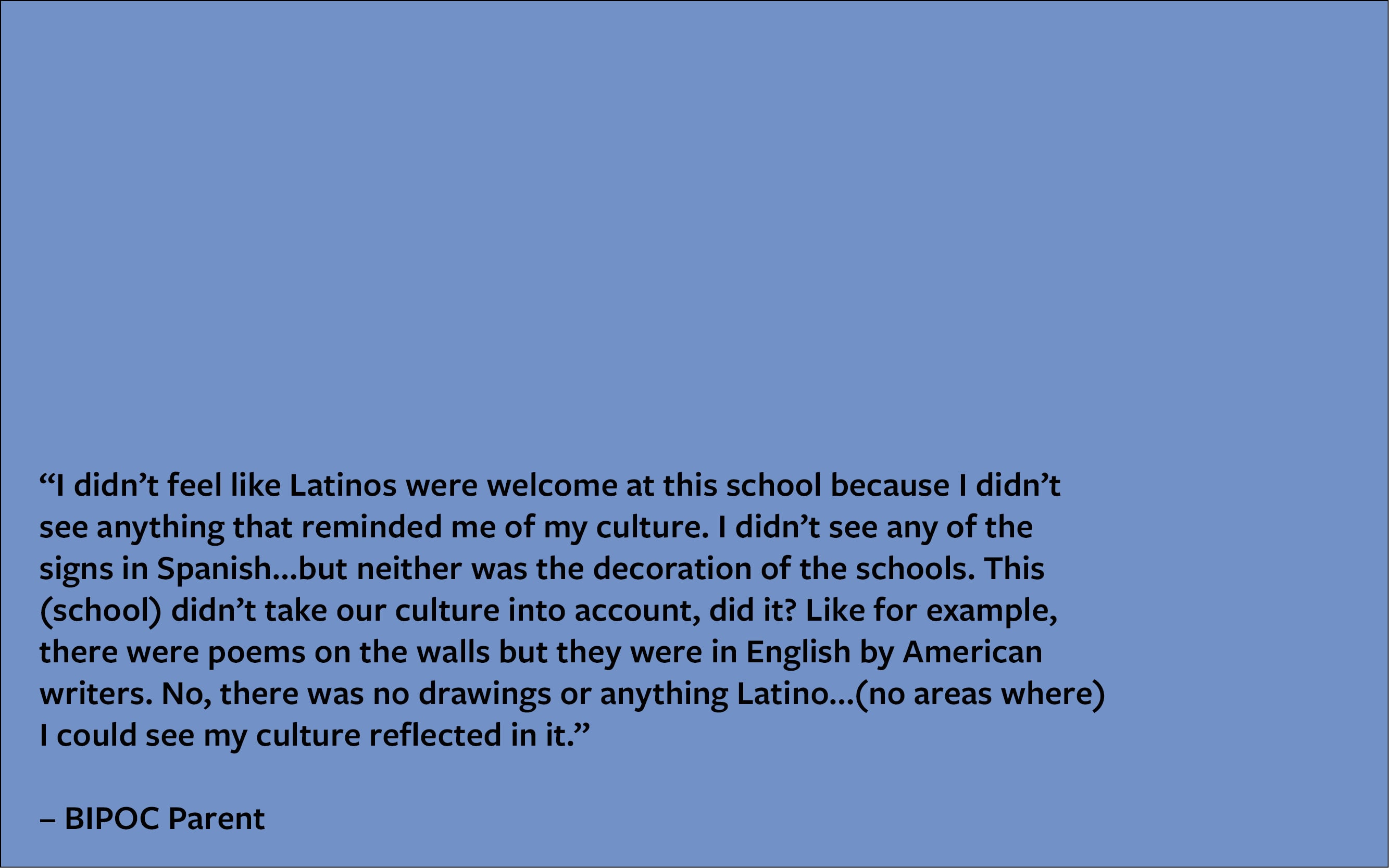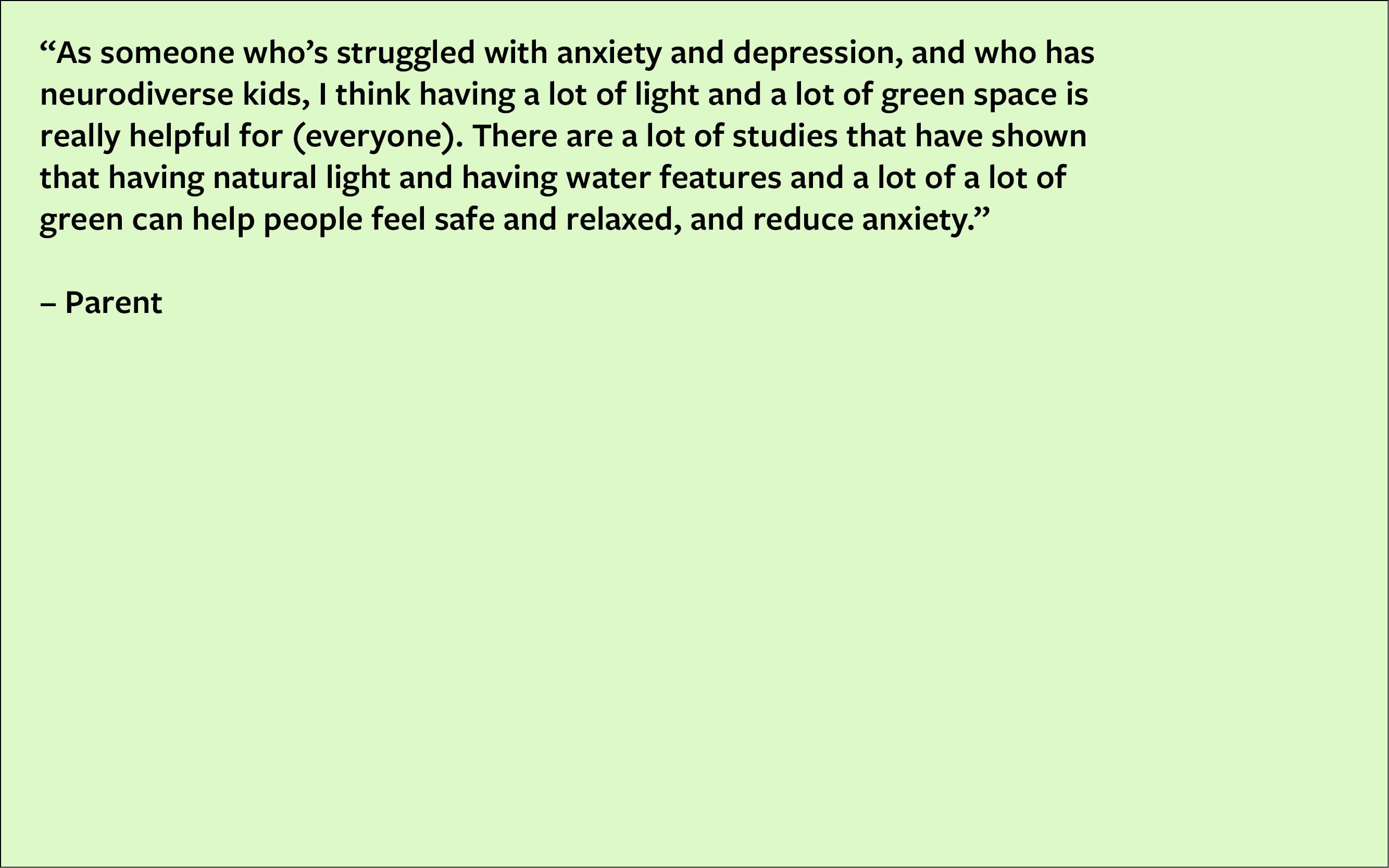 Within the dynamic tapestry of conversations, stories, relationships, and trust that came out of this process, our team identified 11 recurring threads – or guiding themes – through careful synthesis. These themes were ultimately validated by the District and now serve as the touchstones of the design process. From new construction, additions, and expansions to various District-wide upgrades, our ability to effectively develop solutions alongside each project's Design Committee that reflect these themes is imperative. They will serve as a metric for accountability, ensuring that we do all we can to guarantee that the outcomes of this inclusive engagement approach yield equitable learning environments.
Listening, Learning, Growing
To say that this work has been hard would be an understatement. But it is the right kind of hard. It requires unlearning the inequitable processes and mindsets that have contributed to years of systemic oppression. It involves investing the time and effort to learn new facilitation tools, build empathetic relationships grounded in an appreciation for our neighbors' experiences, and allow ourselves to move at a pace determined by trust. Throughout this process, we have embraced the role of the learner just as much as the community members who courageously accompanied us on this journey. And while we know that we have a lot more to learn – both in our work with Newberg and in our projects going forward – we are proud of what we have accomplished and the lessons we can draw from in the future.
"Reaching families and communities of underrepresented populations in a school bond process is a significant challenge and often overlooked. BRIC Architecture stretched our thinking about how to engage BIPOC families, students experiencing houselessness, and other voices who normally go unheard. Not only has BRIC helped us rethink how we connect with our communities for construction planning, but also how to engage them more broadly across all of our district activities and communications. Because of the efforts and the processes BRIC has developed for this work, we know our new and remodeled facilities will be designed in a way that is more welcoming and enticing for all our students and families, staff, and the community at large."

Dr. Joe Morelock, Superintendent
Newberg Public Schools
Above all, we are humbled to see that a commitment to thinking critically about how someone's identity affects their perceptions of an environment is permeating beyond engagement sessions and design meetings to the District as a whole. Teachers, administrators, staff, students, and community members are bringing the concepts and practices we explored back to their classrooms, their community spaces, and their homes. We believe this momentum will be the catalyst that leads us all towards a more equitable, just, and humane future.